How It All Connects
10 Jul 2023
There's some automation on this site that posts to various places, all via RSS. Here's how it works...
There are a number of ways to subscribe to this blog you can do it via RSS, email or on social media (Mastodon, Micro.blog or Bluesky). I've always been of the thinking that a reader shouldn't have to go hunting for my content; instead, it should be made available in whatever way makes sense to them.
Problem is, distributing links (or the entire post) to multiple places can be a pain. I'd much prefer to publish my post and let the automation do the rest.
I'm a big proponent of RSS so that's where I started looking, and in the end RSS has become the backbone of how my content is distributed across the web.
What's shared, where?
Ok, so here's a list of where my content is distributed and in what form. All of this happens automatically within a couple of minutes of a new post being published.
RSS - my RSS feed contains the entire contents of my post and is immediately updated when a post is published
Email - thanks to the brilliant Buttondown service, I'm able to regurgitate my RSS feed to email subscribers. Once again, this the entire post and is sent out around 10 minutes after the post is published
Micro.blog - I created a second feed called social-feed.rss which contains just the post description and a link. This is perfect for social media, so Micro.blog slurps up this feed and shares it there
Other socials - Micro.blog then automatically cross-posts the contents of social-feed.rss to both my Mastodon and Bluesky accounts
I love this setup - all I have to do is publish a post and my RSS feeds do the rest. It's fantastic. For those of you who are visual learners (I include myself in this bucket) here's a handy-dandy diagram that I threw together to show how it all connects: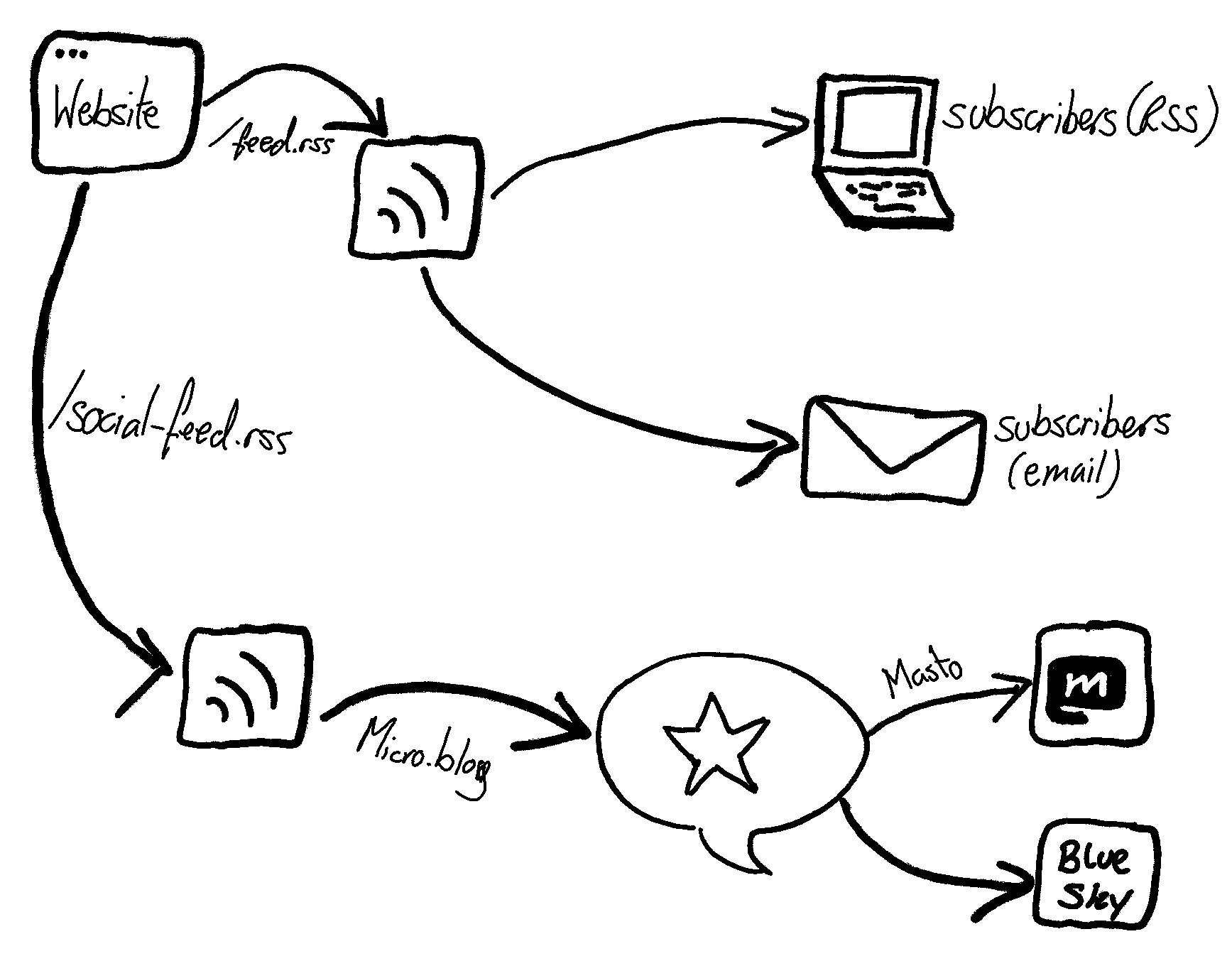 How much does it all cost?
Automation that's this simple to implement usually costs a lot of money, right? Wrong. All in, this site costs me $18/month to run, and is broken down as follows:
Blot.im (website hosting) - $4/month
Buttondown Basic - $9/month
Micro.blog - $5/month
Micro.blog also supports other services that it can cross-post to. Currently Medium, Mastodon, LinkedIn, Tumblr, Flickr, BlueSky and Nostr are supported.
I don't need any expensive plugins, or fancy (read: complicated) code to make this all work. It's all just RSS, and it's lovely.