Outland
26 Sep 2023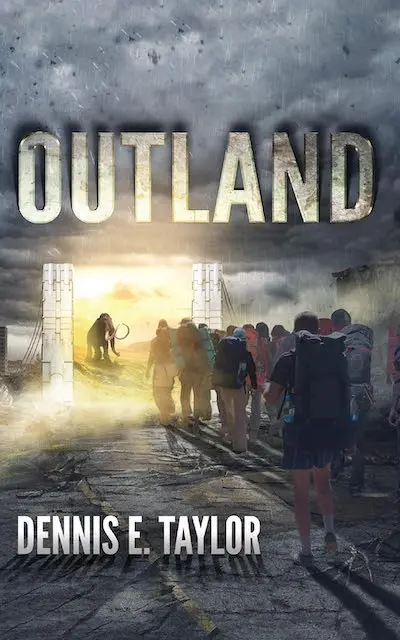 ✍️ Written by: Dennis E Taylor
🏷 Genre: Sci-fi / fantasy
🗓 Published: 01 January 2015
📄 Pages: 360
🧐 My rating: ★★★★★ / 5 stars
When an experiment to study quantum uncertainty goes spectacularly wrong, physics student Richard and his friends find that they have accidentally created an inter-dimensional portal. They connect to an alternate Earth with identical geology, but where humans never evolved. They go panning for gold and become millionaires overnight, while fantasizing about Nobel Prizes and patents.

Then the Yellowstone supervolcano erupts on Earth in an explosion large enough to destroy civilization and kill half the planet. Richard and his friends have less than an afternoon to get as many people as possible across to Outland before Nebraska is covered in a lethal cloud of ash.

Now Richard finds himself in charge of a disorganized and frightened band of reluctant pioneers, on a world with none of the modern infrastructure that people have come to depend on. Richard has been a loner all his life, and has always wanted to be part of something bigger– but this is far more than he bargained for. If he doesn't get this right, it's not just the lives of the people in his care that could be lost– it may very well be the end of human civilization.
In stark contrast to the last book I read, I absolutely loved Outland. This came as a recommendation on Mastodon, and I'm really glad I took the advice.
It's a short book, at only 300 or so pages, but it's such an interesting read. I like the way Taylor focusses on the challenges the students have as they are responsible for hundreds of refugees all of a sudden. They're basically making it up as they go along, and having to constantly think outside the box. These aren't heroes, they're just kids trying to do the best they can, and everyone loves an underdog, right?
I can't wait to get started on the second book.