How Plus Addressing Can Prevent Spam
09 Dec 2018
I noticed recently that I appear to be getting a lot more spam to my mailbox than normal. I don't usually share my email address if I can help it, so wasn't sure what was happening. Some digging was required.
It quickly became apparent that most of the spam was being delivered to a legacy account that I keep around. According to Have I Been Pwned, the email was included in the recent Apollo data breach. Damn.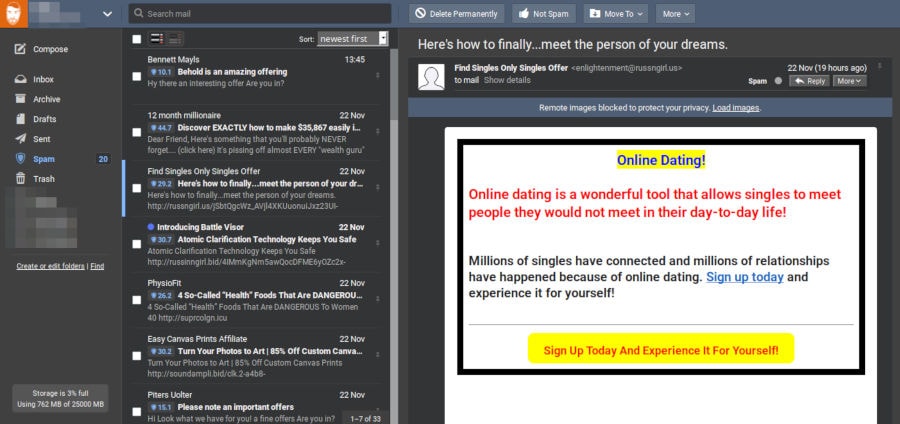 I've talked about why you should own your own domain before, but in this instance having my own domain didn't offer much advantage. Back then I was using the same email address everywhere, but now I use plus addressing to provide unique email addresses for services I sign up for. So if a site I'm signed for gets popped, I'm still relatively safe from spam.
What is plus addressing?
I'm sure many people reading this post are familiar with alias email addresses – where you have one email address that actually redirects to another. For example, a company could have sales@my-company.com, which routes to individual members of the sales team internally.
Plus addressing is a similar technology, except it allows you to use what are effectively alias email addresses without having to actually configure them.
For example, if my email address is kevquirk@fakemail.com and I'm signing up for a new Spotify account, I could enter kevquirk+spotify@fakemail.com and mail sent to that address will be delivered to my inbox.
Here are some links that show how you can use plus addressing with common email services:
Basically, these services are configured to ignore anything that comes after the "+" and deliver the mail to your inbox.
So how can this prevent spam?
We all know not to use crap passwords and to make sure they're unique to every account. Using plus addresses effectively does the same thing for your email address.
A plus address is obviously very simple to guess, and won't add any extra security when it comes to authentication. But what it does do is give you a way of putting your online accounts into email silos.
So if Spotify were compromised and my kevquirk+spotify@fakemail.com address was added to a bunch of spam lists (like my old address has been), it would be trivial for me to identify where the breach has stemmed from. I can then setup a rule to auto-delete any mail sent to that address, then update my Spotify account to another plus address.
Ipso facto – you will get a lot less spam and have more control over your email.
Plus addresses also allow you to easily add rules to your incoming mail so it's automatically sorted on delivery. If you're anything like me, you will get a lot of mail, so I use rules to sort my mail into different folders when it's delivered. Using plus addresses makes this process very simple as I can filter on the "to" address.
Plus addresses are easy to use, yet very powerful. Unfortunately I didn't have any plus addresses on my old email address, but since I don't really use it anymore I'm going to route the mail to another mailbox. That way I can still use that email address if I need to.
Are you using plus addresses, or do you have a better way of using unique email addresses? Feel free to tell me your thoughts in the comments below.