03 Mar 2023
Gideon The Ninth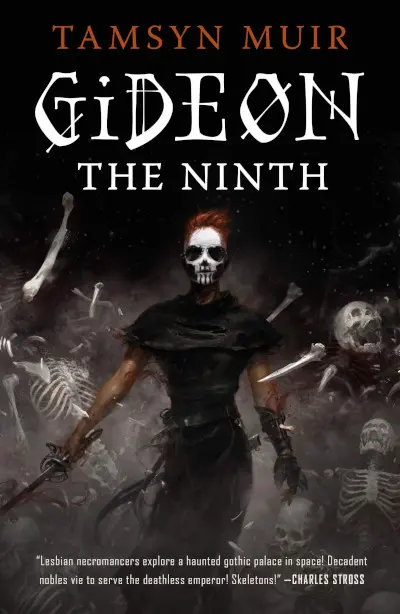 ✍️ Written by: Tamsyn Muir
🏷 Genre: Sci-Fi / Fantasy
🗓 Published: 14 July 2020
📄 Pages: 496
🧐 My rating: ★★★☆☆ / 3 stars
Brought up by unfriendly, ossifying nuns, ancient retainers, and countless skeletons, Gideon is ready to abandon a life of servitude and an afterlife as a reanimated corpse. She packs up her sword, her shoes, and her dirty magazines, and prepares to launch her daring escape. But her childhood nemesis won't set her free without a service.

Harrowhark Nonagesimus, Reverend Daughter of the Ninth House and bone witch extraordinaire, has been summoned into action. The Emperor has invited the heirs to each of his loyal Houses to a deadly trial of wits and skill. If Harrowhark succeeds she will be become an immortal, all-powerful servant of the Resurrection, but no necromancer can ascend without their cavalier. Without Gideon's sword, Harrow will fail, and the Ninth House will die.

Of course, some things are better left dead.
I was really looking forward to Gideon The Ninth having read lots of glowing reviews about the book, and the series in general, but I came away feeling a bit…meh.
It's not a bad book, don't get me wrong, but I don't think it lived up to the hype. The story is really interesting, and quite unique, what with the necromancy and all that, but I don't think Muir went into enough detail about the background story.
Personally, I would have preferred this book to have set the scene a little better and talk about the background of the empire we find ourselves in, the Emperor, and how it all came to be.
Instead, I found myself playing catch up on the storyline and feeling unfulfilled because of it. Despite this, I found Gideon to be absolutely brilliant and really well written. There was just enough dark humour sprinkled in to make me chuckle a number of times.
I found my brain wandering at times, which isn't a great sign, but in fairness to the book, I "read" this via audiobook and this was my first one, so maybe that had something to do with it?
🚨

Mild spoiler ahead…

The last few chapters culminate into what can only be described as a boss fight, and they're really gripping as the story all comes together. But like I said, I'd have liked the backstory to have been revealed a sooner.
Given how the first book ended, I think I will read the second book, but I might try this the old fashioned way, by actually reading it to see if that holds my attention any better.
In the meantime, I flipped back to Brandon Sanderson's world and am currently reading listening to The Way Of The Kings.